2018 was a big year for enterprise mobility management. The number of organizations leveraging managed mobility services (MMS) to cut costs, better protect corporate data, boost productivity, and improve the employee experience continued to grow. With 2019 already shaping up to deliver more of the same, what else are we likely to see dominate mobility management this year?
1. 5G: the New Watchword for Enterprises
5G has been eagerly anticipated for a while now, some sections of the media began building up to its release as far back as 2012. But, as 2019 begins, it really is just around the corner with 5G specifications due to be released in March.
What does this mean for enterprises and, more specifically, their mobility management?

Well, the first thing to note is that 5G is unlikely to mean 'faster phones' – cue legions of disappointed consumers. For a more in-depth explanation of why, we'd recommend this excellent blog, but the crux of it is that the benefits of 5G lie in capacity rather than higher peak speeds.
While this might not be what consumers want to hear, it's great news for enterprises. 5G will provide a low-latency network that can support the transfer of large amounts of data faster than 4G connections. Beyond the obvious benefits this provides for employees using traditional mobile devices, it could also bring greater opportunities for businesses to use the Internet of Things (IoT).
Gartner forecasts that 14.2 billion connected things will be in use in 2019 and that the total will reach 25 billion by 2021. Although most of its growth so far has been consumer-led, the better connectivity offered by 5G, coupled with an increasing number of enterprise-ready IoT devices being produced, will likely mean a greater willingness to extend enterprise mobility programs to include IoT devices.
While roll-out is likely to be slow — it will only be available in selected areas for the next couple of years — and no one quite knows what enterprises will do with the opportunities it brings, businesses should begin to think about 5G now to avoid being left behind in 2-3 years' time.
2. GDPR Comes Stateside
Of course, this isn't meant literally ­­– GDPR is an EU regulation – but the Cambridge Analytica scandal and its fallout has caused tremors on both sides of the Atlantic. The first result of this is the California Consumer Privacy Act 2018, due to come into force on Jan. 1, 2020. The CCPA grants Californian consumers similar rights to GDPR: the right to request data be deleted, disclosure on what data is being used for, the specific data being held, and who it's being shared with – more on the details here.
The bill makes clear the improper data management and security breaches will be penalized. The CCPA carries potential fines up to $2,500 per violation, increasing to $7,500 per violation if the breach is deemed intentional.
This is particularly relevant to companies with a mobility program because it makes the security of devices and access to corporate data more important than ever before. As well as ensuring all enterprise networks are secure, businesses need guidelines in place to educate staff on the responsibilities of network access. In addition, data security must be maintained throughout the lifecycle of a device, including once it's no longer used or the employee using it has left the business.
It's likely California is only the beginning of the trend towards stricter data privacy laws in the US. At the time of writing, policymakers in Georgia are working on a similar bill and several other states have begun mooting the idea of their own legislation. So, as 2019 dawns, it's never been more important that businesses lock-down customers' data. For many organizations, the most cost-effective and foolproof way to manage this is going to be the outsourcing of device and network security to a good MMS provider.
3. 'Coopetition' to Expand
One of the biggest MMS stories of the last few years has been the continuing partnership of IBM and Apple. Hailed as transformative for enterprise mobility when it was first announced in 2014, the teaming-up of two of the tech world's biggest players showed there was another way to provide enterprise-level solutions.
The trend has continued, with HP announcing that it would extend its Device-as-a-Service (DaaS) offering to cover Apple's iOS and macOS hardware in early 2018.
These collaborations between firms that would ordinarily be rivals is a win-win for enterprises. It allows them to provide employees with highly desirable devices like the iPhone and MacBook Air, with all the technical support and advanced analytics of HP and IBM as part of a mobility program.
But Apple hasn't only set its sights on the traditional enterprise market; recently, the firm announced CompuCom as the delivery arm for its DaaS program for Macs. The partnership has already borne fruit, putting together the 'In-Store Selling Advisor' to enable traditional 'windows-based' retail outlets to adopt Macs without impacting their current desktop support model.
A more thorough analysis of the program's benefits can be found here. However, in short, it provides retail associates with a way to increase sales, retain training and capture greater wallet-share by combining real-time product, service and sales information – without the pain of completely overhauling their existing support model.
The trend towards tech companies collaborating with enterprise mobility in mind is only making the case for transitioning to MMS more compelling for businesses. Traditionally, many companies have a tried-and-tested procurement strategy and switching to MMS has been seen as a risk, but with providers like Apple making a concerted effort to appeal to enterprises by partnering with more business-oriented firms like IBM and CompuCom this could be about to change.
As Apple begins to corner the enterprise market – in the past year, 82% of the work done on mobile devices in the enterprise was performed using iOS and the use of Macs in the office has risen 68% – expect rivals like Android to bite back with corporate collaborations of their own.
4. Increasing Demands for Global Delivery
Finally, the increasingly global deployment of IoT sensors and other non-standard devices – such as wearables – and the challenges in maintaining visibility and operational support of these technologies, as well as the supranational nature of modern business, is driving demand for MMS with greater reach.
This is only likely to continue over the course of 2019 and beyond as organizations extend the scope of their mobility program to include IoT devices. This is set to put those providers who can offer resources in multiple territories in the driving seat as competitors desperately try to catch-up.
For more insight into the telecoms expense management landscape, including a look back at the trends that shaped MMS in 2018, download the Gartner 2018 TEM Market Guide today.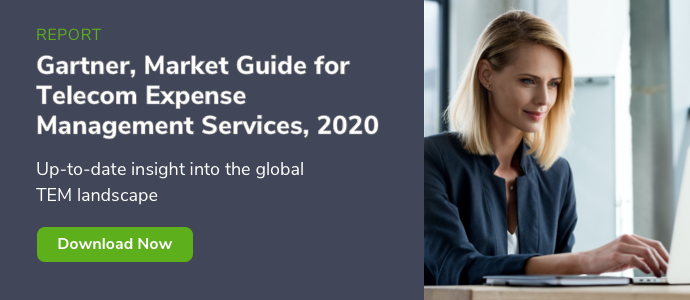 Topics: managed mobility