Technology expense management is a service born out of the desire of enterprise organizations to get a better handle on their assets and services.
Its purpose is to provide greater visibility into the technology inventory and reduce areas of inefficiency to generate cost savings. But, while adding this to your current telecom expense management (TEM) provision might sound like the perfect idea, caution is advised.
Why Technology Expense Management?
At an enterprise-level, technology plays a tremendous role in how an organization operates. From networking and storage to infrastructure and cloud services, the volume of new technology that has to be managed is growing at a frantic pace.
But as this technology inundation grows, it leaves organizations with a lack of visibility regarding their IT inventory, and this problem is intensified yet further when you incorporate current industry trends.
The Rise of XaaS
In the modern era, every type of product and service is being transformed by software – then supercharged by connections. The end result is that businesses are moving away from purchasing assets and putting stock in a phenomenon known as 'everything-as-a-service' or 'XaaS'.
While embracing this shift can help organizations improve agility and reduce money spent on traditional on-premises assets, it also means they have much less visibility and control, which can increase the risk of spend overruns, reduce profitability, and significantly impact the bottom line of income statements.
Technology Expense Management
The value of technology expense management is that it provides a solution to these burdens and offers enterprises an opportunity to cast a better eye across all their services.
It aims to identify all IT services being consumed, who's consuming them, and whether they're consuming them efficiently so that inefficiencies can be located, managed and rectified, enabling organizations to once again gain control over their IT services.
How Technology Expense Management Delivers Savings
But not only that, technology expense management also helps businesses to drive down spend via the following processes:
Billing anomalies detected via invoice audits are recovered
Unused services are highlighted by usage data and cancelled
Underused services are highlighted by usage data and optimized
The Value of Technology Expense Management
The monetary value of a well-delivered technology expense management provision is clear, and throughout a number of industries, specifically financial services, specialist companies such as Apptio and Nicus offer a solution where the benefit is undeniable.
But while technology expense management has value when effectively delivered – not all solutions are born equal.
Today, it's becoming increasingly common to see TEM vendors tack on a technology expense management provision for no other reason than to jump on the trend-bandwagon, with no evidence to suggest that they're fit to deliver the service.
And here we come to the crux of the issue.
Why Avoid Technology Expense Management by TEM?
Setting aside the monetary impact for a moment, to deliver a truly valuable expense management service – whether it's telecom expense management or technology expense management – providers must offer their expertise and support as well as their products.
TEM vendors will almost always lack the information, knowledge and resources required to effectively provide insight into the XaaS shift, so choosing to put your faith in a TEM provider to identify and eradicate inefficiencies across all your IT services may be a big mistake.
And this has significant implications beyond the scope of just technology expense management.
Is Your Telecom Expense Management Vendor up to Scratch?
To fully understand IT service rate structures, contracts and invoices, providers require specialist skill and technical expertise.
If your current TEM vendor lacks any of this insight across physical assets or XaaS offerings, not only have they dangerously overestimated their ability to provide a comprehensive technology expense management service, but they're likely failing to perform TEM properly as well.
Technology expense management in the telecom industry is often just a bolt-on for companies who are trying to distinguish themselves in the telecom expense management (TEM) environment, when, in reality, technology expense management is a service that should be offered as part of TEM.
Cass for Telecom Expense Management
In short, no matter the buzz technology expense management may be creating, TEM vendors must be assessed in the same way they always have: how good they are at performing telecom expense management.
At Cass, technology expense management is nothing new – in fact, we've been managing the costs of a wide variety of IT and XaaS costs for several years. However, our focus remains on providing enterprises with a superior TEM service that generates tangible cost-savings for enterprises.
With a history of steady growth, years of enterprise-level expense management experience – including fourteen years within the telecom market – and an unparalleled customer retention record, there is little wonder why we're the premier choice for enterprise organizations.
But don't just take our word for it to discover why Gartner believes that Cass is the only publicly traded player that delivers real results, worldwide – download the TEM Market Guide here.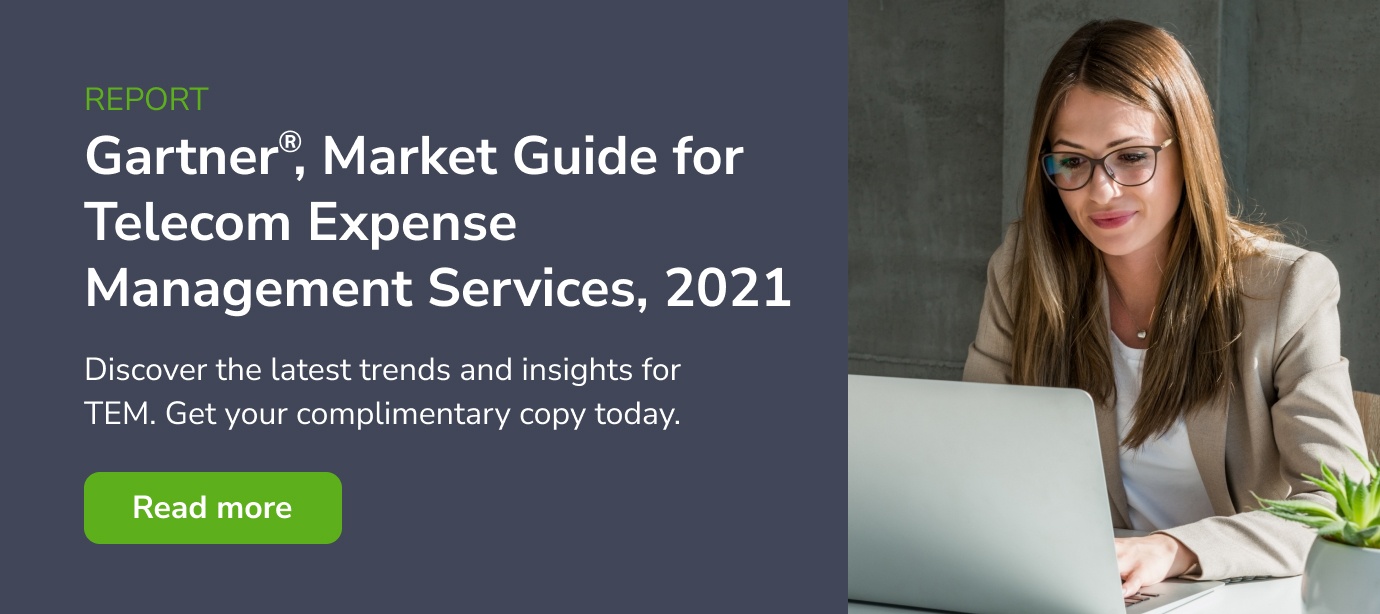 Topics: TEM