If you ask any enterprise organization, most would probably agree – cloud management is essential.
Except the term 'cloud management' may well be one of the most misunderstood, misinterpreted, and ill-defined phrases in recent memory.
So, while businesses agree management of their cloud is a core tenant of responsibility, the majority may well be approaching it from the wrong direction, leading to less than favorable outcomes.
The Growth of Cloud Computing
Cloud computing has grown to become ubiquitous within enterprise organizations, with everyone from interns to CEOs having at least some knowledge of the benefits cloud can offer.
But, as understanding of the technology has matured, so too has accessibility.
While it was once the case that only experienced IT experts could navigate the nuance of the cloud, today it's more convenient than ever for individuals in global enterprises to provision services, spinning up and down resources as they require.
Yet this accessibility and simplicity has its drawbacks too.

Cloud Management Accountability
The cloud remains a complex beast and to avoid costly overpayments and security vulnerabilities, expert knowledge, insight, and expertise are indispensable.
With multiple people, spread across multiple departments, in multiple locations worldwide, all adding and subtracting workloads, resources, and services from the same cloud simultaneously, visibility and control are quickly lost.
This can lead to a whole host of problems, but perhaps the most dangerous issue – and the one which most businesses fail to appreciate – is the lack of understanding surrounding accountability.
Picture the scene:
One of your department heads requests to purchase a cloud storage service from AWS, Azure, or Google Cloud to migrate mission-critical data away from on-premises architecture.
They've ticked the right boxes and delivered a comprehensive report that outlines how the service provider of choice takes responsibility for cloud security – and you've witnessed first-hand how secure its services can be. So, when you later hear that your vital data has been compromised, you think that it must be some kind of mistake.
Except, after a long, tiresome, and unsatisfactory investigation, you realize there's no error, you've been hacked, and as you're left shouldering all the financial and reputational damage – sharing the headlines with other high-profile breaches – you're left wondering how it all happened.
This may seem like a hyperbolic example, but if you check the headlines over the last year or so, you'll see a number of high-profile organizations have met a similar fate.
But that can't be right – how can a cloud services provider allow your data to be compromised when housed within their data centers and then not be accountable for the fallout?
The Illusion of Responsibility
Unfortunately, this is the reality.
While it's true that cloud services providers (CSPs) are charged with the responsibility for protecting cloud infrastructure, when it comes to workload security, your CSP isn't liable.
It's your organization's duty to create, manage, and update all compute permissions, storage access, and all manner of other cloud components down to edge compute resources. And not only for daily-use systems either – this extends to development and test systems too, as, when promoted to a production environment, these security credentials can be overlooked in the focus on making service updates live.
It's a huge undertaking, especially in the modern-era of accessibility and simplicity, leading Gartner to predict that through 2022, at least 95% of cloud security failures will be the customer's fault – not, as is so often suggested, your CSPs.
To avoid the repercussions laid out above, you first need to redress everything you thought you knew about cloud management and then seek out the specialist knowledge, experience, and means to meet security standard best-practices and thwart hackers and miscreants from accessing your critical data.
Enter cloud management services (CMS).
Cloud Management Services
Cloud management, at its core, is about managing, optimizing, and securing the cloud environment to minimize risk, reduce spend, and recapture visibility and control. It aims to maximize resource availability, control escalating cloud service costs, and enhance visibility over a more secure environment.
For organizations to avoid the numerous issues that will continue to manifest as access to the cloud becomes yet more simple and accessible, the support, guidance, and expert knowledge that comes from a team of cloud-accredited experts is invaluable to the smooth running of your cloud.
What's more, with insight into each and every alteration to your environment provided by intuitive cloud management software, you can regain the visibility and control required to significantly reduce over-payments and security vulnerabilities.
And, with a team of cloud-accredited experts working as an extension of your enterprise, you can eliminate any information gaps and be assured that you stay on top of all cloud management trends.
To learn more about what constitutes true cloud management, get in touch with a Cass expert, or, to discover how much CMS can help you save while maximizing your security, request your free Cloud Expense & Security Assessment.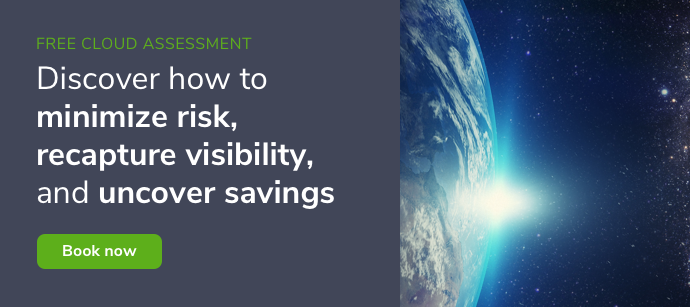 Topics: Cloud Management Services