Mobility is central to organizations everywhere. Mobile workers form a large proportion of the workforce: from employees who travel between offices, work on the move, or frequently make business trips, to field-based employees, such as technicians and sales representatives. With the influx of recent trends, such as bring your own device (BYOD) and remote working – intensifying employee appetites for new devices and flexible working practices – every business now requires a managed mobility strategy.

What is Managed Mobility?
Managed mobility is the procurement, deployment, and management of mobile devices and software that connects out-of-office workers to the enterprise environment. Born out of one of the greatest paradigm shifts in modern business – the growth of the mobile workforce – managed mobility helps IT departments understand where mobile devices are, what they cost the organization, how they are being used, and whether the network and data are secure.
Creating an effective managed mobility strategy is no mean feat. Rather, it's a substantial undertaking that forward-thinking organizations are increasingly choosing to outsource. This has given rise to a demand for Managed Mobility Services (MMS): whereby providers drive, support, and manage the entire mobile environment on behalf of their clients, controlling costs and providing visibility into the mobile estate.
Why Use a Managed Mobility Service?
The right MMS can help organizations with the acquisition, deployment and management of mobile devices, as well as the strategic planning that mobility initiatives require.
As enterprise mobility expands, so too do the resources required to support and manage it. But many companies lack the right policies or tools necessary to implement a successful enterprise mobility strategy. So, an enterprise will often opt to outsource some, or all, of their mobility infrastructure and management to MMS vendors, thereby easing their financial and administrative burden.
An MMS solution can offer significant cost savings for enterprises. An estimate from Blue Hill Research suggests MMS can deliver a three-year ROI of 184% – indicating that outsourced services are considerably more cost-effective than in-house or unmanaged environments.
But, while the financial incentive for outsourced MMS is clear, it's just one of several ways that MMS can help an organization better meet its business goals.
Benefits of Managed Mobility
A strong MMS solution from a reputable managed mobility vendor solves many common mobility challenges and provides a number of key benefits.
1. Increases Mobile Workforce Productivity
MMS can create new opportunities for your workforce – freeing some employees to work remotely for the first time, while enhancing the productivity of those who already spend some, or all, of their time outside the office.
2. Improves Bottom-line Results
MMS empowers your staff to work more strategically, focusing on core activities, by relieving them of mobility management tasks. For most companies, this improved efficiency and productivity also translates into significant cost savings.
3. Ensures Mobile Services Are Optimized
Many MMS vendors provide your workforce with mobile devices that are already set up and ready to go, ensuring efficiency and optimization for both IT and end-users. Whatever the user requires on their device – software, settings or apps – will be individually configured and ready to go on arrival.
4. Achieves the Best Possible Contract Terms, Rates, and Conditions
With a deep understanding of the mobile marketplace, visibility into vendors, and knowledge of what they are really willing to give, a good MMS provider is perfectly placed to help your enterprise negotiate contracts, to ensure you get the best rates and terms.
5. Gives Insight into Ownership Best Practices
MMS providers have the knowledge and experience of the industry to provide expert guidance and advice about employee mobile-ownership best practices. With the right protocols and processes in place – data encryption, password protection etc – business benefits are maximized and challenges mitigated.
The Bottom Line
In this era of hyperconnectivity, enterprise mobility is well established. Outsourcing managed mobility services to a vendor has become an attractive proposition for enterprises, and it would be prudent for organizations to determine whether outsourcing could reduce the cost of deploying and managing their mobile environment.
From mobile devices and apps to management tools and services, Cass Telecom Managed Mobility Services provide everything you need to extract the greatest benefits from an MMS platform. With a comprehensive, customized, end-to-end managed mobility service that enables you to better support your customers, embrace outsourcing, release your workforce, and support their mobility.
To learn how Cass Telecom can help better support your workforce's mobility, including the acquisition, provisioning and support of mobile devices and strategy, speak to a Cass expert. Or, to learn how to reap the benefits of BYOD, while maintaining security and promoting best practice, download: "How to Write Your Enterprise BYOD Policy – The 8 Essential Steps."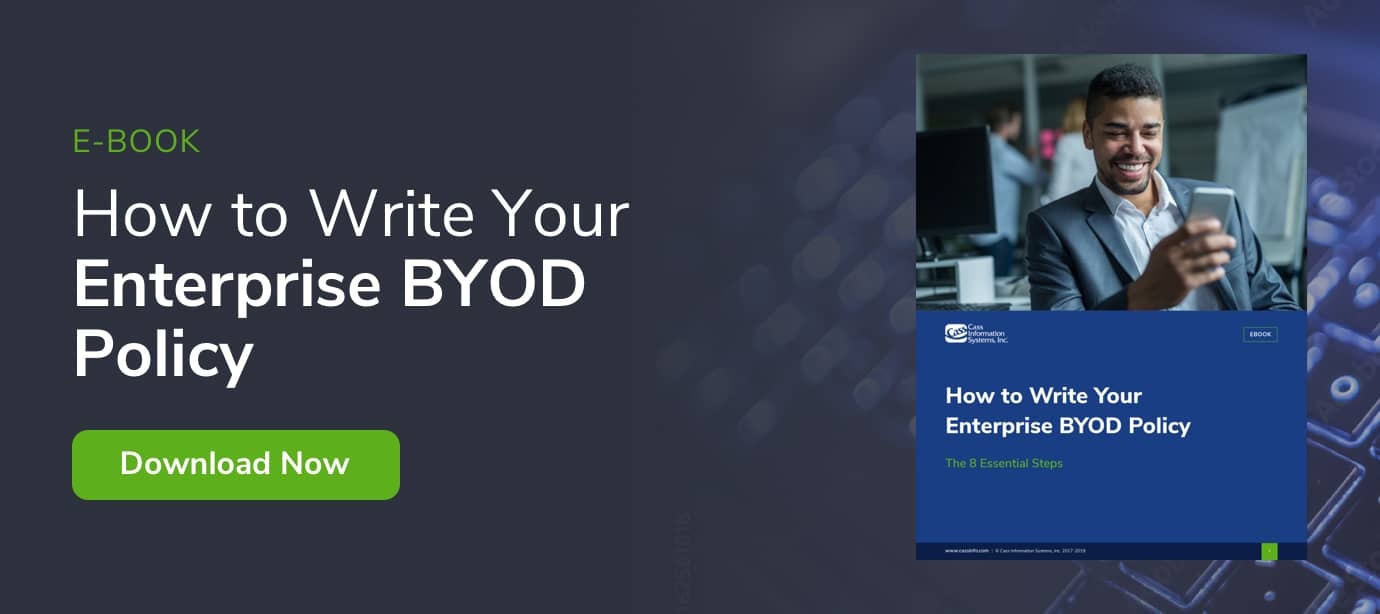 Topics: managed mobility