Cloud Management has experienced a meteoric rise in popularity over the last 12 months – responding to the needs of enterprise organizations to gain control over their public cloud spending. However, 2019 is looking like it could spark even greater interest in Cloud Management Services (CMS), not least thanks to these four top trends for 2019 and beyond.
1. Recognition of Lack of Resources
When cloud computing first emerged, one of its primary selling points was its ability to simplify daily operations. If a sales team needed to access customer information, they accessed the cloud database and delved into the data. If a finance team needed to track down a payment, they could tap into an online service they all shared without any of the red tape.
But, as is the common trend with technology, what was once a simple concept has now morphed into a kingdom of complexity.
Today, a growing number of companies are utilizing more and more intricate methods to maximize the value of their cloud but, in doing so, are beginning to exceed the number of cloud certified cost and security experts available to help them in this endeavour.
At a recent Gartner Symposium, Google announced that in the US today, there are over 100,000 InfoSec jobs unfilled, meanwhile, a study developed in collaboration with LSE academics found that a lack of cloud expertise is not only preventing companies from innovating, it's also costing them an estimated 5% of global revenue annually – translating to $258 million in lost revenue per year for large organizations.
In 2019, enterprises may find themselves lacking access to the resources to both build and achieve their cloud migration goals and effectively manage the costs and the security of their cloud systems. And, in these instances, will find that the only options left are either to reconfigure those goals or find a method to adequately support them – enter cloud management services.
Providing the necessary expertise, support, and services necessary to unlock the full benefits of an enterprise cloud investment, in 2019, cloud management services will prove to be a decisive advantage for organizations who invest correctly.

2. The Multi-Cloud Revolution
In the early days of cloud computing, organizations were forced to choose between the scalable, low-cost public cloud and the customizable, highly-secure private cloud. Then along came hybrid cloud – offering an opportunity for organizations to enjoy the best of both worlds – thus changing the face of cloud computing forever.
Now, we're in the throes of the latest iteration of the cloud market – multi-cloud (or multi-hybrid-cloud for the purists) – whereby organizations choose not only to mix-and-match public and private configurations but also the providers of these services, minimizing the risk of vendor lock-in and maximizing redundancy.
But with so much going on in one cloud environment, a lack of control and visibility is common, and where cloud management becomes a necessity.
Cloud management services offer enterprises the opportunity to improve visibility and control over their environment by delivering in-depth data into consumption-to-budget, spend trajectory, and resource utilization.
Through the tracking, management, and reporting of this workload data in near real-time, businesses are able to retain authority over their cloud environments, while maximizing the benefits of their architecture.
As the multi-cloud trend continues to accelerate through global industries in 2019, the need for cloud management systems will continue to grow ever stronger and become an integral part of a business's IT make-up.
3. Security is King
Since its inception, the public cloud has been tarnished with a reputation for substandard security, characterized by high-profile data breaches and severe reputational repercussions.
From eBay to Yahoo and Uber to JP Morgan, the business sphere has been inundated with data breaches in recent years and, unsurprisingly, security regularly ranks as the number one concern among cloud adopters.
In fact, a recent survey of technical executives, managers, and practitioners of cloud technologies found that 77% of respondents viewed security as a challenge, with 29% finding it to be a significant hurdle. Meanwhile, LogicMonitor's Cloud Vision 2020: The Future of the Cloud Study found that 66% of those surveyed perceived security as the biggest challenge for organizations operating in the public cloud.
However, cloud security can be achieved when the right precautions are taken, and cloud management services can help make this dream a reality.
Cloud management services offer consistent monitoring of all workloads and perform hundreds of critical, pre-built security best-practice checks. With these precautionary measures in place, when a threat occurs, alerts are triggered, automated response activated, and a team of cloud-accredited experts are notified.
For organizations concerned with security in the cloud, CMS helps to reduce security gaps throughout the cloud environment and the significantly reduce the risk of harmful data breaches.
4. Continued Cloud Growth
Cloud computing is a ubiquitous construct within enterprise organizations. The promise of near-limitless flexibility and scalability at speed, combined with cheaper maintenance and improved flexibility proving to be an attractive prospect for big businesses.
But, despite its commonality, cloud computing still has a significant room to grow – this fact reflected by Gartner's estimates that global spending on public cloud services will rise to $206.2B in 2019, up from $175.8B in 2018.
This relentless shift toward cloud-services, while unsurprising, does lead to problems at an enterprise-level. Not least, that with an ever-greater number of provisioned services, spread across multiple geographical locations, accurately tracking, managing, and reporting on a rapidly expanding number of cloud services becomes difficult – and this can lead to marked overspend.
But, through the adoption of cloud management services, handling the ever-growing number of cloud services is achievable.
A cloud management service will gather and analyze usage data in near real-time – delivering in-depth reporting to illuminate how much of a service has been bought, how much it costs, how much is being used, and how it's monitored for threats.
This, alongside other valuable insights, offers businesses the opportunity to get back to grips with their investment and take the appropriate steps to secure and optimize their cloud even as it grows.
Cloud Management Services in 2019
All in all, 2019 looks like it could be a transformational year for CMS. As cloud adoption continues to grow and multi-cloud configurations require taming, security remains a key priority for enterprise. As a result, a growing number of organizations are coming around to the idea of cloud management services to regain authority over their public cloud environments.
If you sound like one of these organizations and are intrigued by what cloud management services can do for you, book a free, no obligation cloud expense and security assessment today.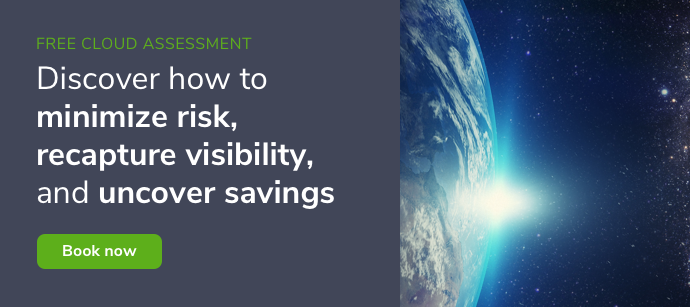 Topics: Cloud Management Services